Pet Friendly Rentals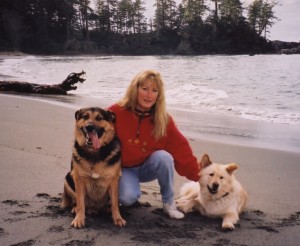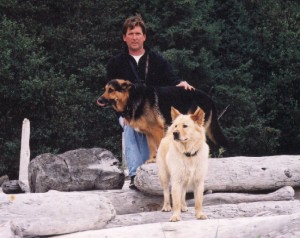 As pet owners, we know how hard it is to find a pet friendly accommodation. That's why at Anchors Inn Waterfront Cabins we welcome not only you but your beloved pet(s) too!  Here we are with our two previous family members, Brogan (who we lost in March 2011 to old age), a 13-year-old Golden Retriever / Shepherd cross; and Bailey (who we lost in February 2016), a 14-year-old Chow / maybe Australian Shepherd cross. Brogan was a Tofino puppy and Bailey was a rescue who was found at the junction at 6 weeks old with her mom and two litter mates left at the side of the road. Our last addition was Ty (short for Typhoon) who we lost in September of 2020 (to make that year even worse) at just 9 years old to kidney failure. We waited 5 long weeks, the first time in 23 years with no dog, and then approached the CARE Network and adopted 6-month-old Rocky!
We understand how important your pets are and the fact you want to create memories together as a family
And as you'll see on this web site, you can enjoy one of our private, romantic and fully equipped waterfront cabins with your own soaker tub on the deck – and bring your pet along too. No inviting Fido into the tub though!
Being a pet-friendly property is very important to us! We ask for $40 per pet per stay (cash only), and donate 100% of our pet fees paid by our guests to the Port Alberni SPCA. (We do not allow pets on our beds, so if pet fur is found on the bedspread our policy is to charge a $100 cleaning fee.)
We were honoured to be named Donor of the Month in February 2013Â – Here is a link to the Donor of the Month acknowledgement on the BC SPCA website: http://www.spca.bc.ca/support/Â . And here is the screen shot below.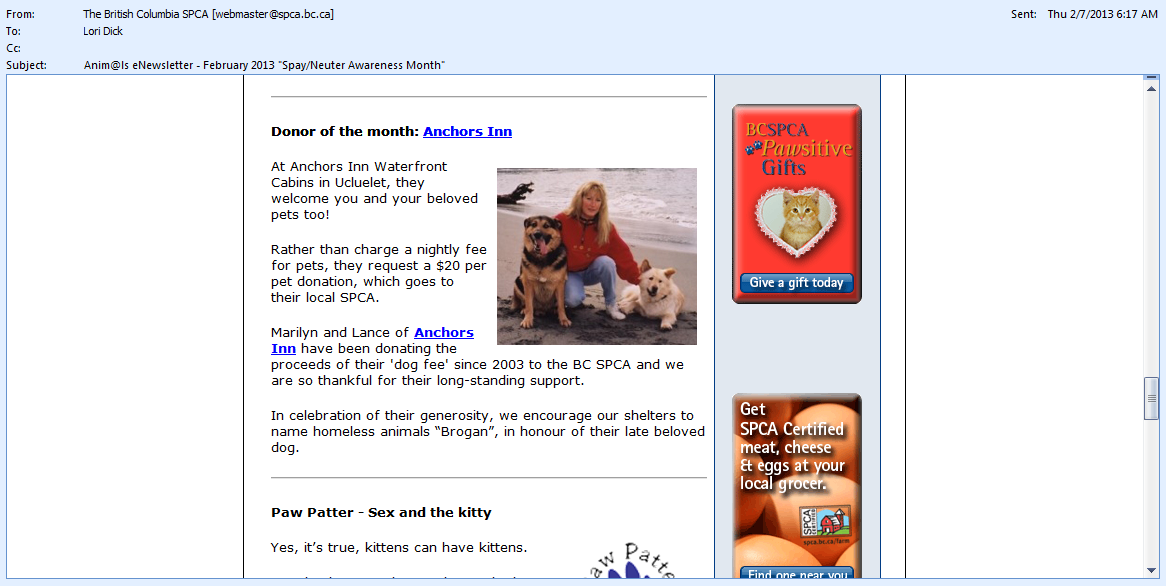 Your pets will love to run on the beaches and walk the trails with you as you explore all the great things Ucluelet has to offer. We do not allow pets to be left unattended in the cabins or the suite so do make other arrangements if you're planning on going whale watching or kayaking and can't take your pet with you. The Pacific Rim National Park  does request you keep your dogs on leash within the park — we suggest carrying a leash as long as your dog can be recalled. To create treasured memories together with your pet call us Toll-free at 1-866-313-8108.