Things to Do
There is a lot to do once you arrive here on the West Coast — outdoor activities include kayaking, surfing, fishing, scuba diving, sailing, biking, and even extreme mountain biking.
Majestic Ocean Kayaking for harbour tours, or Broken Group Islands tour (part of Pacific Rim National Park)
Relic Surf Shop for surfing lessons, equipment rentals, and of course stand up paddle-boarding
Subtidal Adventures for whale watching, bear watching and other wildlife; by zodiac or a covered boat — year round!
West Coast Wild Zipline for the thrill of a lifetime! Six zip sections traverse some of the most beautiful scenery you'll ever see. Very safe and lots of fun!
More passive activities include whale watching, beach combing, bird watching, bear watching, and growing in popularity each winter is storm watching. You'll definitely need more than a 2-night stay to see and do all the wonderful things the Pacific Rim has to offer!
If the weather is a tad wet, there are some wonderful indoor experiences too.  Here are a few suggestions:
The Ucluelet Aquarium is now a permanent structure and will only close for a month or so in the winter.
Reflecting Spirit Gallery represents over 160 west coast artists. Locations in both Ucluelet and Tofino.
Rubio Jewelers has cruise ship caliber treasures at a fraction of the cost. Locations in both Ucluelet and Tofino.
The Crow's Nest is a funky gift store in Ucluelet's oldest building and has something for everybody.
Drift Spa at Black Rock Oceanfront Resort — the ultimate in pampering for you, your partner, or both of you!
Ucluelet's pride and joy is the Wild Pacific Trail– several sections include the 45-minute loop around Amphitrite Point Lighthouse. Much of the trail is on a rugged cliff overlooking the ocean (great for storm watching!) and most of it is right along the water's edge.
Sit back and relax to enjoy this 22-minute documentary Lance made about the trail's inception, hurdles and completion, narrated by Jason Priestley.
 
Ucluelet Aquarium
One of Ucluelet's must-see is our Aquarium. You won't believe how many displays and touch tanks there are in there! Located at the foot of Main Street on the harbour promenade, it's open March through November, at which time the town's residents come down for "release day" and set free all the specimens that resided there back to the ocean from whence they came.
Take a look at this 3-minute video of the 2009 Release Day which took place on Oct. 17th: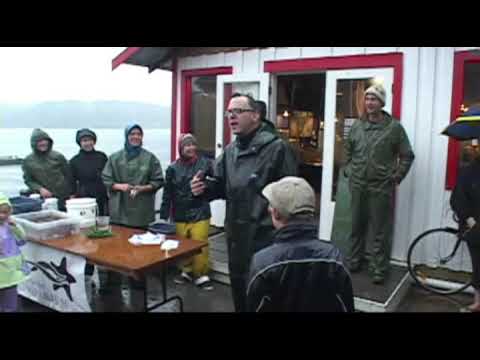 Festivals
March 12 – 20, 2016 –30th Annual Pacific Rim Whale Festival
Over 70 events for all ages, taking place in Ucluelet, Pacific Rim National Park and Tofino. Celebrating the spring migration of over 20,000 Grey Whales past our shore. A great time to do some whale watching, although we do have resident whales here right through to October. The last few years we've seen more Humpback whales returning, so the mix is about 50/50 now.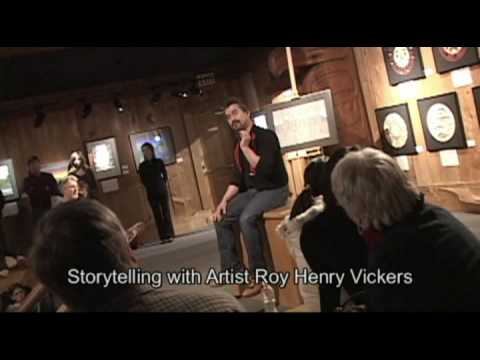 May Long Weekend – Â Annual George Fraser Day & Heritage Fair
Highlights of Fraser's Life in Ucluelet:
1892 Purchased 236 acres of Crown Land for $236 in the Village of Ucluelet
1894 At age 40, moved to Ucluelet, hand cleared 4.5 acres and built a house
1919 Plants shipped to Scotland and Boston
1924 Planted rhododendrons beside St. Columba Church in Tofino (still growing)
1944 Died on May 3rd at age 90. Two days prior he said: "I don't know where I'm going to end up, but it doesn't matter, I have had my heaven here on earth"
1990 Posthumously awarded the ARS Pioneer Achievement Award, the only one outside the USA. George Fraser was the 4th recipient of this special award.
June 12, 2016 – 17th Annual Edge to Edge Marathon Over 500 runners participate in this annual event, starting & finishing in Ucluelet. Events include a full marathon, half marathon, a 10km, and a relay event for teams. Lots of excitement on the Village Green as participants cross the finish line! Not to mention the water stations with wildly decorated themes along the way.
June 11-14, 2017 – 14th Annual Van Isle 360 Sailing Race
A hardy group of sailors race every other year from Nanaimo, up around the top end of Vancouver Island, down the West Coast, around Victoria and back to Nanaimo. Ucluelet is one of the stop-overs on this 10-leg race, and the whole town welcomes the beautiful boats and their crew for a 3-day stop-over including a salmon BBQ at the community centre.
July 22-24, 2016 – Ukee Days
This small town festival is not to be missed! Friday night boasts a big salmon barbecue on the Village Green, Saturday morning the best little parade you've every seen makes its way along Peninsula to the fairgrounds (don't be late or you'll miss it!), and the fairgrounds are open Saturday & Sunday. You'll love it!
Helpful Links
Wild Pacific Trail – a great walking trail nearby
Pacific Rim National Park - Long Beach Unit and Broken Group Islands Unit
Subtidal Adventures - the best nature tour company by zodiac
Majestic Ocean Kayaking – a kayaking company just down the street
West Coast Wild Adventures – a flight seeing tour company by seaplane and new zipline
Long Beach Charters - with fishing guide Mike Marriott
Westcoast Fish - with fishing guide Matt Olcen
Ukee Bikes – a bike rental company two blocks away
Relic Surf Shop – a surf lesson & rental shop in town
West Coast Fitness Centre Gym & Pool - perfect for those stormy winter days
Gallery